HOUSE OF COCO INTERVIEW - JUNE 2020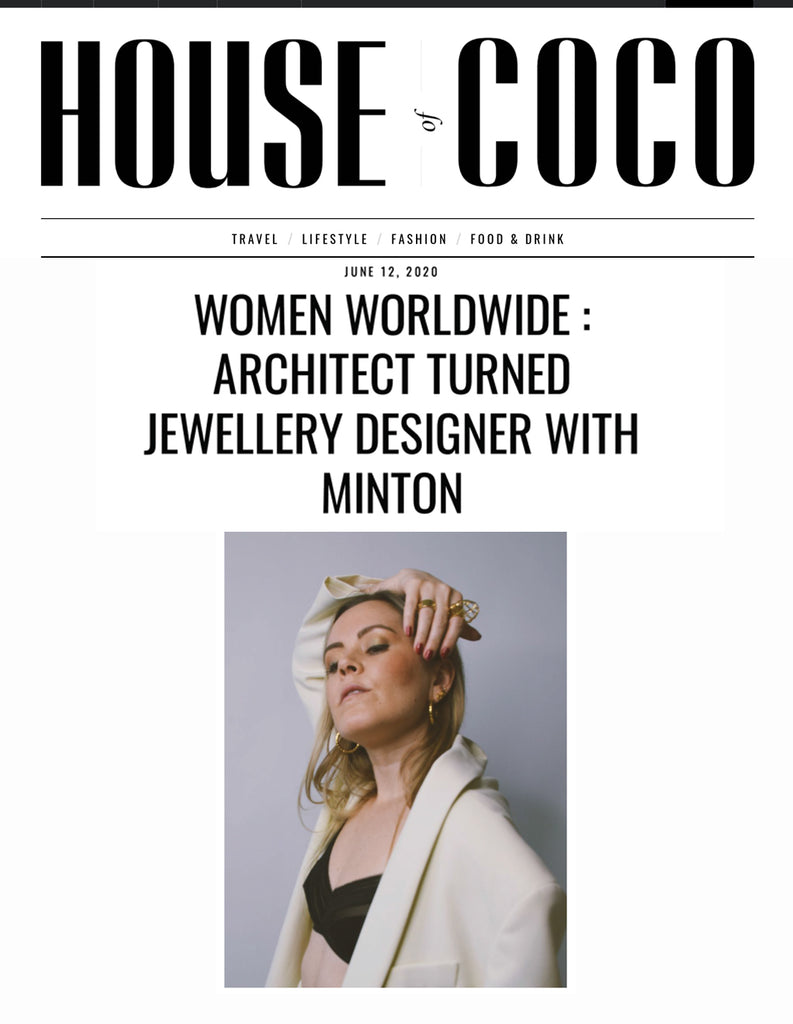 --- read the original article online via this HOUSE OF COCO LINK --
 MINTON has been seven years in the making and finally Emily Minton Ratzlaff brought it to life.
At  MINTON, they stand for modernity, minimalism, and the unexpected. MINTON is a premium architectural jewellery label that uses 3D modelling software and a digital fabrication process to tailor and create each design. Emily is a real girl boss, she knows what she wants and isn't afraid to go out and get it, which is evident in the amount of success she has had with MINTON so far.
We spent some time with her to find out more…
Tell us about the journey that lead you to launching Minton…
I am an Architect turned jewellery designer, and starting at a young age, I knew I wanted to be an architect and pursued it 100%. However, I always had an underlying love for fashion that grew while I was in architecture school. While attending graduate school at the University of South Florida in Tampa, I decided to create jewellery as my architectural thesis project. I made jewellery out of concrete and resin beginning with a digital fabrication process. To me, every piece I designed was always first a piece of architecture, and that is still how I approach jewellery design. I developed another layer to who I am as a designer, not just an architect. I see each piece that I have made as an architectural idea or gesture – it is jewellery, but it is also a possibility of what architecture can be. My thesis year I felt as though I was uncovering something within myself and I knew without a doubt that this would be my destiny and I would turn it into a business. Five years later, while living in Baltimore and practicing architecture full-time, I launched MINTON. 
You use 3D modelling software, can you talk us through the process?
I design each piece of jewellery within a computer program called Rhino. I rarely ever sketch and prefer to go straight from my mind into the computer. Once I have a prototype that I would like to test out, I take the digital file and 3D print the piece. I utilise a Formlabs 3D printer which uses a laser to harden liquid resin. These prototypes are essential to my design process because I can test the size and scale of each piece, and go back into the computer and 3D print again as many times as needed until I feel I have the final piece. Once complete, I then send my digital file to my manufacturer in NYC, and they utilise their own 3D printer to print the initial piece and then transition into typical casting methods to produce the finished product. 
What item has been you best seller?
MINTON's most popular ring is the Spiral Stair Ring, which is a small homage to architecture. MINTON's most popular necklace is the Custom Signature Pendant, which allows for custom text or numbers on all four sides of the pendant. I love seeing the different baby names and birth dates and knowing that the necklace will have personal meaning to my customer. I first designed that piece as a gift for a friend of mine that was pregnant with her second child. 
How often do you add new pieces to your collection? 
I typically release a new collection every 6 months. My mind is always thinking of new pieces, and I envision releasing more individual pieces or mini collections throughout the year in the near future. I want to always keep bringing new energy and new ideas to life within the brand. I am currently working on the release of some jewellery pieces in 3D printed plastic which will come in at a lower price point and engage my customers with pieces that also showcase my 3D printing design process. 
How do you want people to feel when they wear your designs? 
Unique, special, and empowered. MINTON pieces aren't like typical jewellery, and I want people to know and feel the difference. I always get the comment that my pieces look like weapons, and I want them to evoke a sense of power. 
What would an average day (pre Covid19) look like for you?
Pre-Covid19, I was practicing architecture during the day, while running MINTON during my nights and weekends. My day always started within meditation first-thing in the morning and then knocking out a few jewellery to-do items before transitioning to architecture during the day. The majority of the day would consist of meetings, and plenty of phone calls and emails coordinating with clients and consultants. In the evening, I would start catching up on jewellery emails while making my vegan dinner and drinking some good Pinot Noir and ending the night processing orders. My weekends were always dedicated to photography and creating new pieces or imagery.
Outside of work, what are your passions?
I'm passionate about meditation and continually learning about the supernatural abilities of human potential. Self-evolution and self-improvement drive me. I believe that we have the ability to create our own lives, and my passion for that mentality stemmed from feeling powerless at certain points in my life. It pushed me to dig deeper and feel determined change that belief and to approach life knowing that I can create the life that I desire. I want my customers to feel empowered wearing my jewellery, therefore I need to feel empowered creating it.   
For anyone wanting to launch a jewellery business, what advice would you offer?
Don't wait. Don't wait for answers, don't wait to have enough money, and don't wait to be happy. Start right now with what you have and do what you can. I had to develop a belief that we always have whatever it is we need. Forget about having the perfect circumstances and simply put your energy into what you love, and the rest will sort itself out. I was just reminding myself of this lesson earlier this week!
What's your favourite quote to read when you are lacking motivation?
I am inspired by the work of Dr. Joe Dispenza and am always left feeling mind-blown by his overarching message that we are powerful, and anything is possible. When I am in a negative headspace or lacking motivation, I will pick up one of his books, or watch an interview of his, or just jump to his Instagram. It instantly helps me shift my mindset and my energy. I also like to go into meditation and sit with myself long enough to understand what belief I have about myself or life that might be causing that lack of motivation or negative perspective, and then I focus on how I do want to feel and what I do want to think and put my energy into those thoughts and emotions. 
Our readers love to travel, what destination is at the top of you bucket list? 
Oh gosh this is easy – Egypt! I would love to see the pyramids of Egypt in person. I have a fascination with them visually, but I feel that they also have an element of mystery. I am completely obsessed with the colour scheme of the desert. The combination of the forms of the pyramids, the minimalist desert setting, and the colour scheme is just everything to me. 
Looking back since launching the brand, is there anything you would do differently? 
I would have stopped waiting at certain points along the way and pushed forward when I felt that my conditions should have been different, which ties into my lesson for another else starting a business. Just do it!
Where can people find out more?
People can follow MINTON on Instagram @shopminton or check out shopminton.com and shop online!